Kalipoz – działanie, stosowanie i leczenie niedoboru potasu we krwi.
Makroelementy oraz mikroelementy to składniki mineralne niezbędne do egzystencji człowieka. To one zapewniają rozwój i zdrowie każdego z nas. Mikroelementy i makroelementy stanowią 4% masy ludzkiego ciała. 30 z nich to pierwiastki absolutnie niezbędne do życia. Organizm człowieka nie jest w stanie sam wytworzyć tych pierwiastków, dlatego człowiek musi pozyskiwać je z pożywienia. Niezbędne człowiekowi składniki mineralne dzieli się na makroelementy i mikroelementy. Dzienne zapotrzebowanie ludzkiego organizmu na makroelementy wynosi łącznie ponad 100 mg natomiast na mikroelementy, czyli pierwiastki śladowe nie przekracza 100 mg. Makroelementy ważne dla człowieka to:
wapń
magnez
chlor
potas
fosfor
sód
Natomiast wśród pierwiastków śladowych wyróżnia się:
żelazo
miedź
cynk
jod
mangan
molibden
fluor
selen
chrom
Potas, rola potasu w organizmie
Potas jest jednym z trzech najważniejszych minerałów niezbędnych do prawidłowego funkcjonowania organizmu. Najważniejszą rolą potasu w organizmie jest jego udział w gospodarce wodnej organizmu. Poza tym jest on niezbędnym minerałem dla prawidłowej pracy serca. Niedobór potasu jak i nadmiar tego pierwiastka jest równie szkodliwy dla zdrowia, ponieważ potas odpowiada za prawidłową gospodarkę wodno-elektrolitową oraz kwasowo-zasadową. Jon potasu bierze udział w procesach regulujących pH komórek oraz ciśnienia osmotycznego. Potas jest również niezbędny dla prawidłowego metabolizmu węglowodanów oraz białek. Za prawidłową gospodarkę organizmu i zawartym w nim potasie odpowiadają nerki utrzymujące odpowiednio wysokie i stałe stężenie tego pierwiastka.
Dzieci do 3 roku życia powinny dziennie otrzymywać 3 g potasu, pomiędzy 3 a 8 rokiem życia – 3,8 g a dorośli od 4,5 g do 5,1 g.
Skutki niedoboru potasu w organizmie
Najczęściej na niedobór potasu w organizmie cierpią osoby będące na permanentnej diecie, odchudzające się. Szczególnie, gdy dieta przyjmuje drastyczną formę poprzez stosowanie środków przeczyszczających wymuszających biegunki i wymioty. Podobne skutki zachodzą u osób z zatruciem pokarmowym, gdy organizm ulega odwodnieniu i traci niezbędne elektrolity.
Objawem utraty potasu jest nadciśnienie oraz nieregularna praca mięśnia sercowego. Widocznym i mocno odczuwalnym efektem niedoboru tego minerału są skurcze mięśni, szczególnie nóg, występujące podczas upału czy wysiłku, a także nocą podczas spoczynku. W taki sposób organizm daje do zrozumienia, że uciekło z niego zbyt dużo potasu i należy go uzupełnić. Inne z objawów, jakie mogą wystąpić to:
odczuwalne stałe podenerwowanie, podminowanie
permanentne zmęczenie
Potas wypłukują z organizmu środki moczopędne, de facto odwadniające. Razem z moczem człowiek wydala również potas. Środki moczopędne stosowane w nadmiernych ilościach zaburzą równowagę elektrolitową. Podobnię działają też niektóre leki nasercowe oraz leki przepisywane pacjentom przy nadciśnieniu. Dlatego po każdej długotrwałej kuracji należy skontrolować poziom tego pierwiastka we krwi i w razie potrzeby uzupełnieć go w sposób naturalny – przy niewielkich niedoborach i w sposób syntetyczny przy znacznych brakach.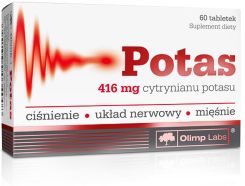 Naturalne bogactwo potasu
Przy niewielkich wahnięciach zawartości potasu w organizmie można uzupełnić go w sposób naturalny, odpowiednio dobraną żywnością. Potas znajduje się w większości produktów z wyjątkiem tłuszczów i cukrów. Najwięcej jest go w suszonych owocach:
morelach
figach
jabłkach
rodzynkach
a także w avokado
bananach
selerach
pomidorach
mięsie
Ekonomicznym źródłem potasu są z pewnością ziemniaki, szczególnie w Polsce przy tak wyraźnej tradycji spożywania tego produktu w codziennych posiłkach. Potas znajduje się też w owocach cytrusowych i zielonych warzywach liściastych.
Mimo obfitości potasu w codziennym pożywieniu spożycie tego minerału jest cały czas niedostateczne. Dużą część zawartego w organizmie potasu traci się poprzez układ pokarmowy oraz nerki. Dlatego należy cały czas dbać o stałe go dostarczanie. Szczególną uwagę na dietę bogatą w ten pierwiastek powinny zwracać osoby odchudzające się, stosujące w kuchni dużo soli oraz jedzące w nadmiarze słodycze i pijące kawę oraz alkohol. Wszystkie te produkty przyczyniają się do przyspieszonego wydalania potasu z organizmu.
Potas w postaci leku – Kalipoz
Kalipoz to lek składający się głównie z chlorku potasu. Dostępny jest w tabletkach o przedłużonym uwalnianiu, co znaczy, że zawarty w tabletkach chlorek potasu uwalnia się powoli w przewodzie pokarmowym. Taka postać leku i powolne go uwalnianie w organizmie zabezpiecza go przed drażniącymi żołądek i jelita właściwościami. Taka forma chroni też pacjenta przed nagłym podniesieniem stężenia tego pierwiastka we krwi. Optymalne stężenie potasu w surowicy krwi to od 3,7 do 5,3 mmol/l. Gdy u pacjenta obserwuje się mniejsze niż optymalne stężenie potasu we krwi można wówczas mówić o hipokaliemii. I właśnie do zapobieżenia i leczenia stanów niedoboru potasu w organizmie, czyli do przeciwdziałania hipokaliemii służy Kalipoz.
Zasady stosowania Kalipozu
Jeżeli Kalipoz stosuje się zapobiegawczo oraz przy niewielkim niedoborze tego pierwiastka, najczęściej lekarz zaleca od 1 do 2 tabletek na dobę. Natomiast gdy u pacjenta występują znaczne niedobory potasu, powinien on zażywać od 2 do 6 tabletek na dobę. Najlepiej gdy każdorazowo dawkę ustali lekarz, ponieważ powinien on to zrobić uwzględniając zawartość potasu w dziennej diecie pacjenta. Tabletkę Kalipozu zażywa się w trakcie posiłku lub bezpośrednio po nim, popijając obficie wodą. Duża ilość wody oraz wcześniejszy posiłek mają zminimalizować ewentualne skutki podrażnienia błony śluzowej układu pokarmowego. Pacjent musi wiedzieć, że tabletki Kalipozu nie wolno rozgryzać ponieważ zaprzecza to podstawowej zalecie leku, czyli powolnemu uwalnianiu się pierwiastka. Gwałtowne przeniknięcie leku do układu pokarmowego mogłoby wywołać niepożądane skutki.
Niepożądane skutki zastosowania Kalipozu
Jak każdy lek Kalipoz może również wywołać niepożądane skutki, jednak nie u każdego pacjenta muszą one wystąpić i nie w jednakowym nasileniu, mogą to być:
zaburzenia pracy serca: zbyt szybkie lub zbyt wolne albo nierówne bicie serca
nudności i wymioty, uczucie pieczenia w żołądku lub przełyku, uczycie dyskomfortu w brzuchu, ból brzucha, wzdęcia, biegunka i zaparcia, niedrożność, w skrajnych przypadkach krwawienia
wrzód żołądka i dwunastnicy, ryzyko się zwiększa w zależności od dawki leku
niewielkie uszkodzenia śluzówki w jelicie cienkim, jeżeli pacjent zauważy krwawienie z przewodu pokarmowego, należy natychmiast odstawić lek i skontaktować się z lekarzem prowadzącym
wysypka w postaci czerwonych, swędzących grudek na skórze, a także świąd lub pokrzywka
zwiększenie stężenia potasu we krwi – hiperkaliemia, w trakcie stosowania leku Kalipozu należy kontrolować stężenie potasu we krwi, aby zapobiegać wystąpieniu hiperkaliemii